Drama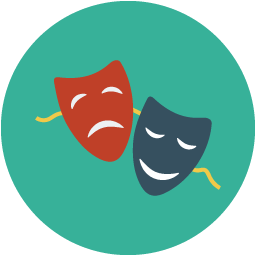 AQA GCSE Drama
What will I study in this subject?
A range of drama skills: physical theatre, mime, cross-cutting, monologues, thoughts aloud.
Study key drama practitioners: Stanislavski, Artaud, and Brecht.
Devise improvisations: develop strong dialogue
Perform scripts, studying a variety of genres/time periods
How is my work assessed?
Component 1 (40%): Written Exam
Section A – Theatre Roles and Terminology (multiple choice questions)
Section B – Study of a Set Text i.e. Blood Brothers (short and extended questions)
Section B – Live Theatre Production (one extended question)
Component 2 (40%): Devising Drama
Practical: Create a 15-20 minute devised performance based on a stimulus given to you.
Written: Write a 'Devising Log', which analyses and evaluates the choices you made throughout the devising process.
Component 3 (20%): Texts in Practice
Practical: Apply theatrical skills to realise artistic intentions of a live performance of a script. Between 2 – 20 minute performances depending on the size of your group.
What can I expect?
Gain confidence as an individual
Learn how to engage and interest an audience
Create high quality and professional performance
Develop communication skills, problem solving and creativity
Develop resilience, determination and character through performance and feedback
Make bonds and friendships with people you may never have known before
What we expect from our students:
Excellent attendance and punctuality
100% effort and commitment to the subject
Respect and support to other performers
Complete all homework and meet all coursework deadlines
Be co-operative and work well as a team member
Be reliable and attend extra rehearsals
Use feedback to challenge and improve the quality of work
Take risks
Be prepared to work hard and in turn achieve high results
Useful links for students: