​​​​ Tutorial and Assembly Programme
At Langdon Park students receive 20 minutes of tutorial time each morning. This is an opportunity for tutors to set the expectation for the day as well check students are fully equipped for learning. Our tutorial programme is delivered like any LPS lesson as part of a programme in place from year 7-13. It is closely linked to our 8 SDC strands and includes the following:
Student Bulletin
2 lessons of RSHE
The Big Read
Year Group Assembly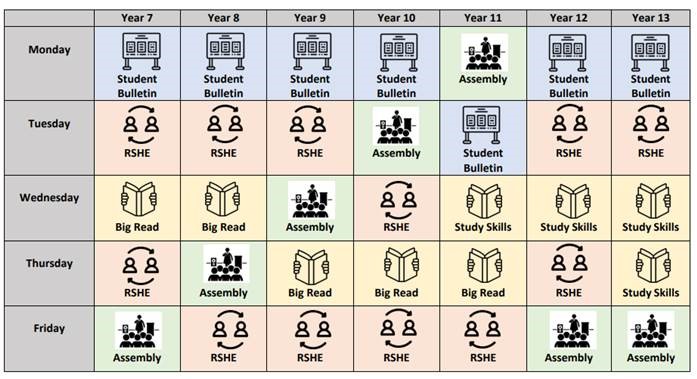 Student Bulletin
Our student bulletin is delivered by tutors at the beginning of the week to ensure students are aware of any upcoming SDC and global events. Staff from across the school contribute to the bulletin on a weekly basis and includes the following:
Rewards and achievement
Attendance
Behaviour and Expectations
Safeguarding and student wellbeing
Career of the week
Current Affairs
Enrichment and Trips
You can view all our student bulletins below:
Student Bulletins - Term 1
RSHE:
Through our tutorial programme students receive 40 minutes of RSHE per week, as well as three drop down days across the academic year. The RSHE curriculum has a thematic approach allowing students to develop their knowledge in an age-appropriate manner and help them to become inclusive learners. All tutors are provided with specialist training to ensure they can deliver challenging topics effectively. In the first RSHE lesson of the week students are delivered key content by the tutor, which is then followed up and reviewed in lesson 2 through debates and discussions.
For further information on our RSHE curriculum please view the RSHE section HERE.
The Big Read:
The aim of The Big Read is to develop and sustain reading habits that equip students with the experiences and understanding of themselves and the world around them needed to succeed. Each year group has a number of age appropriate books to read across the academic year. These are read by the tutor to model effective reading. Once the book has been read students engage in book reviews which they share with the year group. This is in addition to students completing their own independent reading.
Year 7:
The Night Diary
Island
The Infinite
Year 8:
When stars are scattered
Marcus Rashford - You are a champion
Kick
Year 9:
The Kill a Mockingbird
Anne Frank – Diary of a young girl
Year 10:
Assembly Programme:
Our assembly programme compliments our tutorial programme through weekly character-based themes that link closely with national and international events highlighted on our SDC calendar. In addition to our weekly assemblies, we have 6 whole school assemblies responding to the needs of our community based on current affairs and contextual issues.