Sixth Form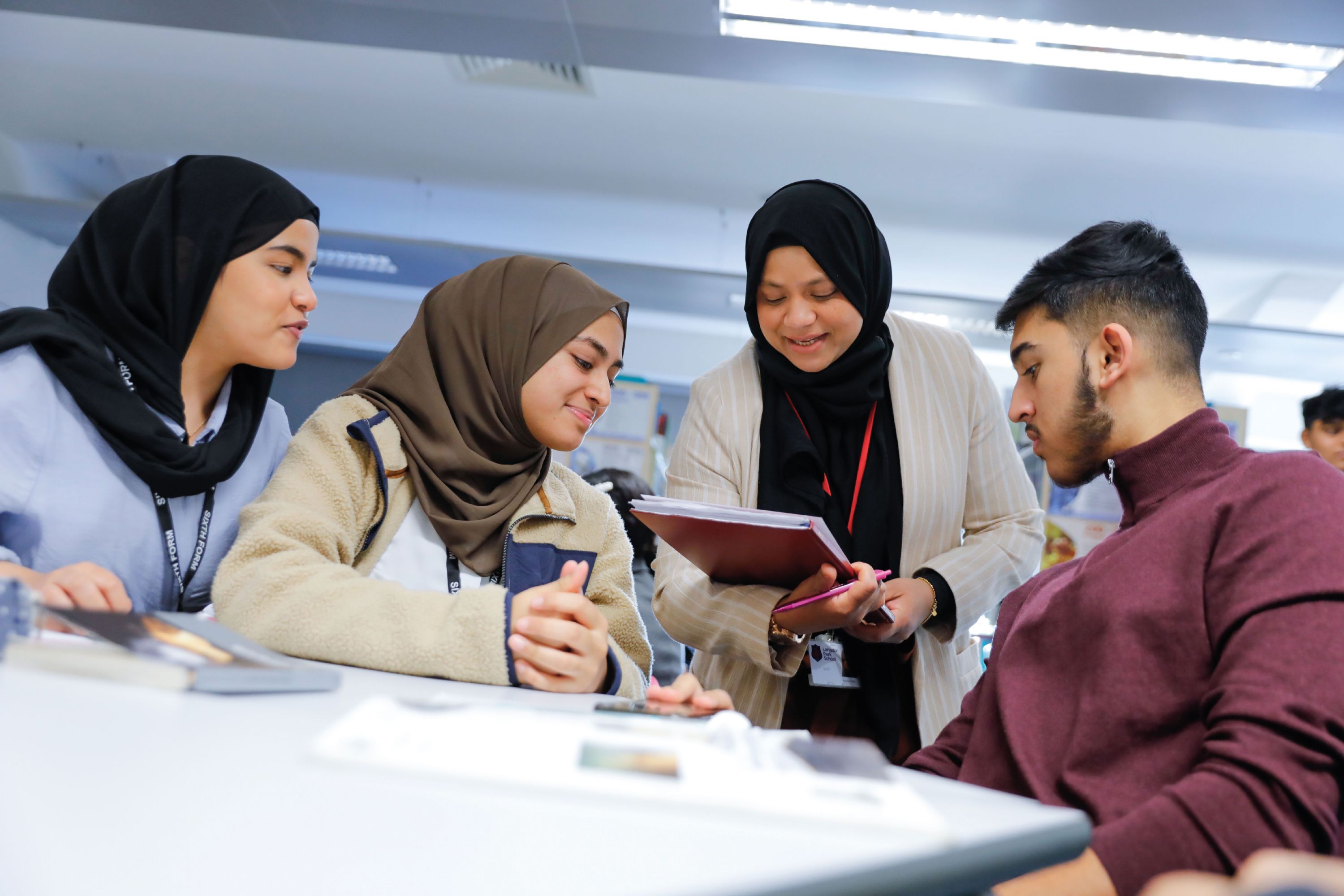 Our core purpose is to ensure that every student will graduate with the best qualifications, purpose, self-confidence, self-belief and a readiness to play a positive role within their local and the global community.
Gender: Mixed
Uniform: Smart dress
Number of places offered: 240
Typical number of places offered to external candidates: 20
SUBJECTS OFFERED
| | | |
| --- | --- | --- |
| A Level | Level 3 BTEC | |
| Biology | BTEC National Diploma in Business | |
| Computing | BTEC Applied Science | |
| Economics | Cambridge Technical in Health and Social Care | |
| English Literature | Cambridge Tech Information Technology (IT) | |
| Government and Politics | | |
| Mathematics | | |
| Physics | | |
| Psychology | | |
| History | | |
| Sociology | | |
We also offer GCSE Resits in English and Mathematics, where necessary
Foundation and Vocational Learners Course for students with an Education, Health and Care Plan (EHCP)
Available courses include English, maths, ICT, catering, sports coaching, motor mechanics, hospitality management, art, fashion entrepreneurship and design. You can find out more about this programme by visiting our website.
The LPS guarantee is to provide support with personal development through our enrichment and tutor programme. Students receive careers advice from our in-house Enrichment and Careers Coordinator, and also benefit from the links that we have with a diverse range of partner organisations.
Approaches to induction
All students with a conditional offer are invited to attend an Induction event in July. This provides a taster for the subjects, which ensures that students make an informed choice. During the first week of September there is an induction led by subject teachers and tutors where students are supported with transition from KS4 to KS5, as well as the high expectations of LPS Sixth Form being reinforced.
Approaches to teaching and assessment
There are 5 formative assessments that take over the 2 years. In Year 12 there are 2 initial classroom based assessments. This allows for early support and intervention where pupils are underperforming. PPE1 (Pre-Public Exam) takes place in the summer term, where pupils are assessed under exam conditions. PPE2 takes place in the autumn term of Year 13, which is a key basis for predicting UCAS grades. PPE3 takes place in spring term of Year13, which is a final opportunity for exam practice and helps identify areas where further intervention is required.
Approaches to promoting students' wider personal development
The school day starts with a 20-minute Tutorial programme, which is fully planned and includes a theme of the week, RSHE, P4C, current affairs as well as a weekly assembly. This is part of personal development and the delivery is monitored.
There is also a weekly enrichment programme, which includes a variety of opportunities for pupils. This has included a programme delivered by NCS, as well as workshops from companies such as Deloitte and Credit Suisse. Our students are part of Realising Opportunities and K+ and attend events with universities as part of their programmes. Our students have been involved with opportunities such as the Investec programme, Future Leaders and Sutton Trust Pathways, to name but a few. They have also been on work placements through the EY Foundation and Uptree. Our links are vast, and the use of Google Classroom makes it easy to inform students of the opportunities available to them.
Support for transition beyond post-16
LPS has a full time Careers and Enrichment Coordinator, who supports all students with career choices and transition. Students are supported with the UCAS process, and with early applications for subjects such as medicine and for Oxbridge applicants. LPS students have been successful with securing places at Oxbridge, including other Russell Group universities. Students are given advice on apprenticeships and attend events as part of National Apprenticeship Week. Pupil engagement is tracked and tutors play an active role in supporting students who require support and guidance. Student leadership is developed through pupil voice roles, work placement opportunities as well as by leading school initiatives.
Pastoral support
All students are part of a form group and are expected to attend school on time, every day. Pastoral Support is offered by the tutors as a first point of contact, as well as the Sixth Form Leadership. There is a Well-Being Group on Google Classroom, where students can raise any concerns. There is an excellent support system for students, with access to an Inclusion Team, including Counselling support and school based Social Worker.
Support for students with SEND
There is a strong SEND team, with a whole unit dedicated to whole school SEND support. There is a KS5 Foundation Course on offer for students with an EHCP. All other SEND student needs are identified, strategies devised and progress is monitored.
Comments from some of our students:
'Langdon Park has given me the opportunity to ensure my opinions are heard and excel academically. My journey in Langdon Park has been both challenging and inspiring. To allow me to have a better focus of my future and what career paths I would like to pick, the many workshops and enrichment has allowed me to have a wider opportunity and a better understanding of the 'real life' experience. I truly believe Langdon Park has been my most eye-opening all round stimulating experience, which I would not have been able to in other schools, due to the teachers care and efforts they put in to us. The teachers help motivate me to be a better person and strive for academic success. For example, I had an experience in finance, when we invested into stock markets with the help of major firms'.
'I have been given opportunities where I can experience and learn new things. These will be really helpful when I apply for universities. For example, I applied to an investment programme through Arrival Education, and my team were accepted (Team Alpha Finance). It is an exclusive programme available to only a few schools and Langdon Park is one of them!'